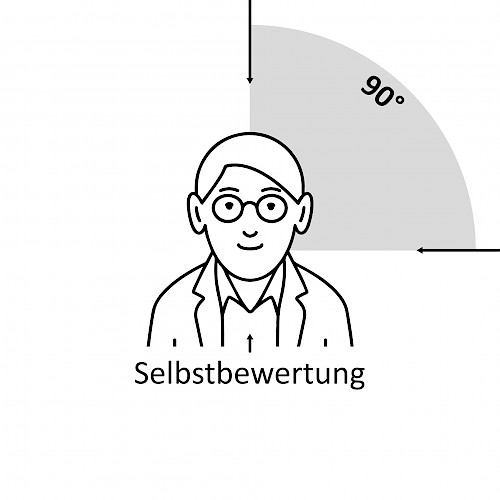 The jambit 90-degree feedback as personal development tool
Globalization, flexibilization and digitalization are sustainably changing our society, by modifying the private lifestyle as well as behaviour and commerce in the work environment. "Development of competences" is the keyword in this case.
Whereas this is a complex challenge for companies, a systematic composition of such competences is becoming more and more important for employees. Only continually adapting organizations can indeed remain competitive.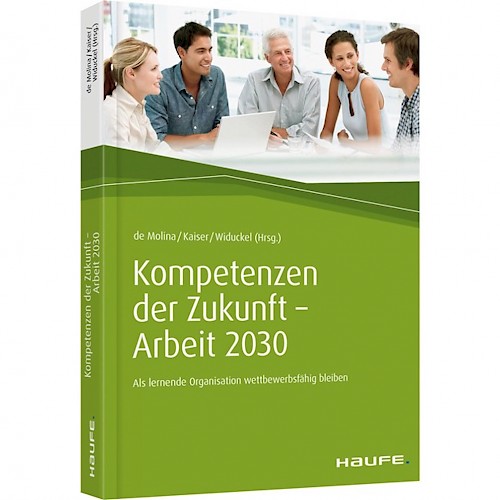 The new book "Competences of the future – work 2030" published on the 13th of September 2018 by Haufe publishing house is presenting best practices for the development of competences in the digital age.
The miscellany consists of 36 technical as well as practical reports from more than 60 authors from Germany, Austria and Switzerland. Among them jambit.
Alexandra Mächtel, our Head of HR, and Marina Wottschal, HR Specialist Personnel Development, are describing "the 90-degree feedback", a personnel developing tool created by jambit!
Alexandra and Marina have given a 12 page long & detailed summary describing how the feedback model was conceived. They are not only showing how the tool was implemented into the workflow but also why it is complementing the known 360 degree feedback for employees in leading positions and how it is used as a personnel development tool at jambit.
The 90-degree feedback in practice
Personnel development is a crucial subject at jambit. We are adjusting to the demands of our quality employees when applying tools and methods, because they are setting the standards for our personnel work. Our employees are focusing on the perspectives to develop their technical skills rather than on developing leadership skills. They want to increase their personal qualities and competencies and, therefore, ask for much feedback.
Various feedback methods and models, such as the 360-degree feedback, mostly aim to develop the skills of employees in leading positions, because they are in constant personal touch with and moderate between their employees. Other staff members, not playing a role in management, are being left out by these sort of personnel development tools for communication skills.
In order to provide all of our jambitees with structured and regular feedback and input to sustain their development, we are using our 90-degree feedback. It is a tool which allows us to meet the demands of our highly skilled employees and nourish their personal development rather than building out a path for them to take on leading roles.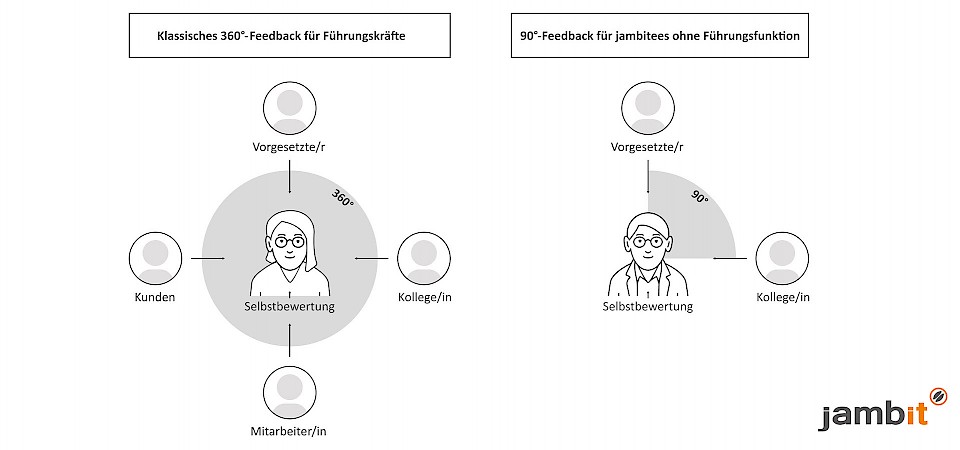 Our motivation
Evaluating the employees' qualities exclusively by the only rating instance, their direct executives, is mostly not enough. It lacks the insight into the authentic behavior in the everyday work environment.
This lack prevents a holistic evaluation which is why jambit decided to expand the impressions of the appraisal interview by adding a horizontal assessment of the employees' colleagues.
This finding motivated our HR division to develop a method which provides an integral evaluation. Chapter by chapter, Alexandra Mächtel and Marina Wottschal are explaining the concept and the implementation phase.
They also answer question regarding the conditions for introducing the tool, the timeframe and the requirements and the necessary arrangements to gain acceptance for the newly introduced 90-degree feedback as well as its functions and success at jambit.
You want to know even more about the 90°-Feedback?
Get an insight into our article by reading the following abstract in German.
Read about the concept of the book "Competences of the future – work 2030" published by Haufe. You can order the book directly here.
About the jambit authors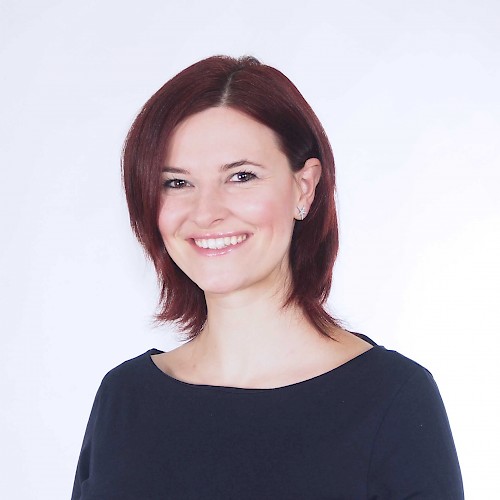 Alexandra Mächtel M.A./E.M. HRM, Head of HR at jambit
After studying Culture, Media and Eastern European Science, Alexa started working at jambit as assistance of both CEOs. Over the years, the company staff grew from 27 employees to 260 to date. Along with that, Alexa gradually shared her extensive tasks with others and focused more and more on the field of human resources. And up to now she has built up an eight people large HR department. She is especially interested in the cultural preservation during business growth, excellent personnel gain and development for employees on the IT market and, currently, in streams of the New Work movement.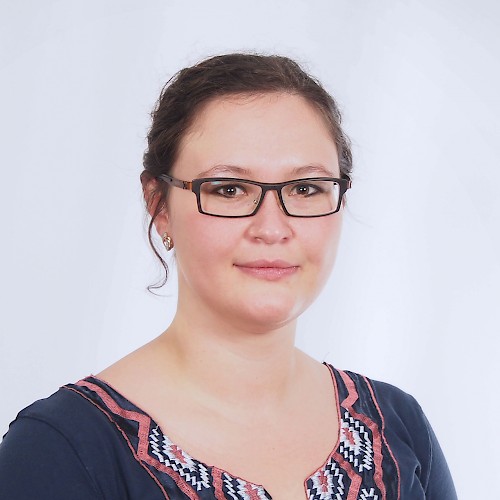 Marina Wottschal, M.Sc., HR Specialist Personnel Development at jambit
Marina studied TUM-BWL and started as a working student at jambit before she began to work in 2016 as our first personnel developer. Her core areas focus on employee-oriented development supplies. This includes programs and processes like developing and extending an attractive knowlegde managent; establishing jambit's own training methods, evaluation measures and feedback systems – just like employee interviews or the above mentioned 90-degree feedback.