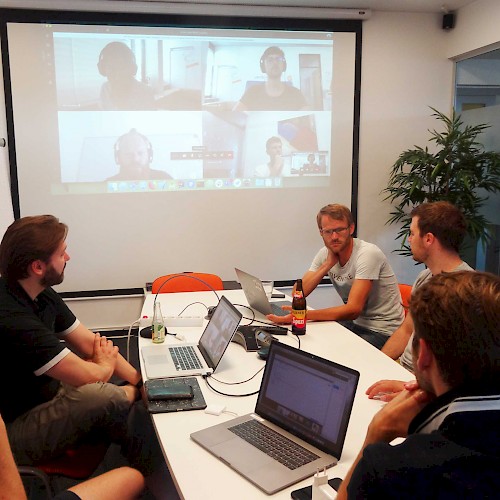 Knowledge management in Communities of Practice (CoP)
As an innovative software service provider, we at jambit are working across many projects and different locations, often in very similar or identical roles. From software developer to project manager or scrum master – our jambitees learn new things, build knowledge and acquire valuable skills. In cross-project and cross-division CoPs we use this knowledge to solve urgent complex problems.
What is a Community of Practice (CoP)?
For people with similar tasks and similar roles in daily project life, a Community of Practice offers the opportunity to exchange ideas, learn from each other and generate new knowledge. A CoP consists of three core elements: Domain (knowledge area), Community and Practice. These are mutually dependent and should be kept in balance. The exchange in a CoP across projects, business divisions and subsidiaries reduces knowledge islands in the company. In this way, knowledge about cross-cutting issues and existing know-how can be optimally used. A professional exchange with someone in the same role often brings the decisive idea of how a complex problem can be solved.
Who participates in a CoP?
Participation in a Community of Practice is always voluntary. The common interest in the topic and the desire to find solutions form the basis. CoPs at jambit come in different forms. For example, many project managers and scrum masters participate in the CoP "Agility and Scrum". In the CoP "Front-end" and the CoP "Java Architecture", developers and architect roles are more likely to meet for exchange and joint problem solving. The CoP "Virtual Work", which enables exchange and improvement at the meta level of work organization, is somewhat broader. In most CoPs, it is not necessary that all participants are at the same place. Colleagues from other offices or from home office can join via video call and take part in the CoP remotely.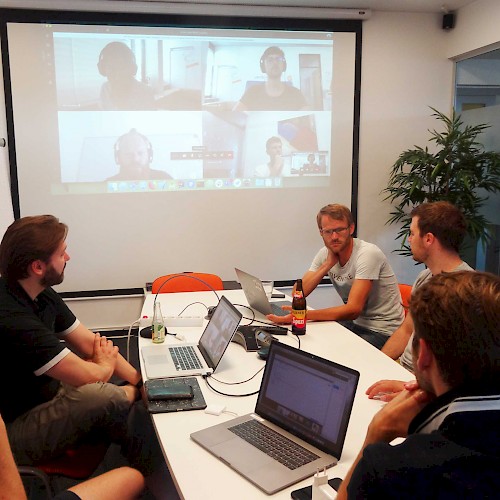 How is a CoP organized?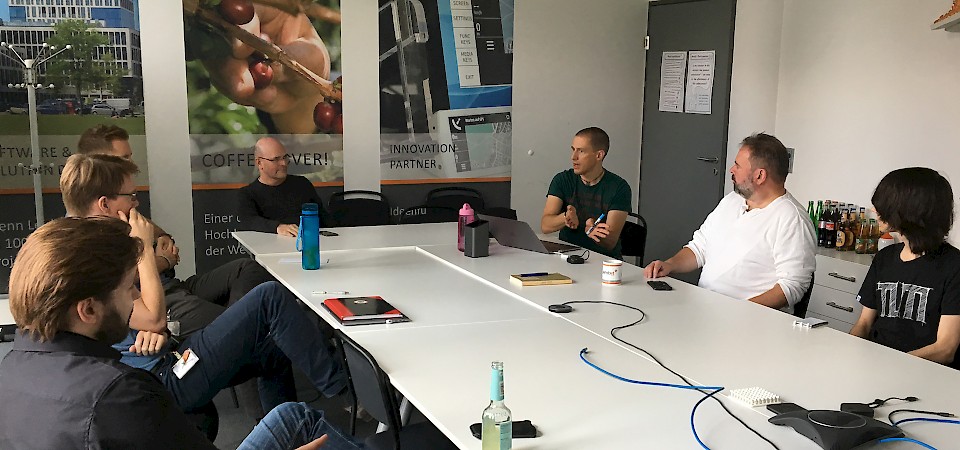 In principle, CoPs are always intrinsically motivated and organize themselves. Further development takes place organically. CoPs at jambit usually have a size of five to ten participants. The given mandatory minimum of structure and documentation ensures that a CoP brings added value to the participants. For example, meetings are timeboxed and the topics dealt with are documented in a comprehensible way, often in a Kanban board or in our jambit Wiki. As far as foreseeable, future topics are announced. Experience shows that usually two types of questions are target-oriented and dealt with: "How can I solve an urgent problem?" and "Can I do anything to make my work even better in the future, even though I don't have a problem at the moment?"
How do our software developers benefit from this?
The answer is simple: access to knowledge, other perspectives, source of learning and quick solutions! The bundled knowledge and the rich experience of our jambitees ensure that every CoP participant goes back to the project with fresh ideas in their heads. If there are no urgent problems to solve, CoPs enrich the daily project routine with short prepared contributions, experience reports or with presentations of interesting tools or frameworks.
In addition to the valuable, mutual exchange, the CoP also ensures networking with other jambitees – across all subsidiaries.
The field of software development is so dynamic that new CoPs are founded when needed and others are paused or reactivated. We are very content that this form of knowledge creation and practice of sharing information is deeply established within our company culture at jambit.
What is the difference between CoPs and other communities?
The transition to other community types is fluid, but in comparison, Communities of Practice are distinguished by self-organization, independence and generating knowledge.
"Knowledge networks" are created by organizations. However, there is a lack of organic development. "Knowledge communities" are the basis for virtual knowledge markets. Knowledge is exchanged, but the group sizes make interaction and generating knowledge almost impossible. In comparison to a "community of interest", CoP members pursue their own concrete goals – beyond the common interest in a certain topic. And "working groups" distinguish themselves by their clear objectives and usually working under time constraints.