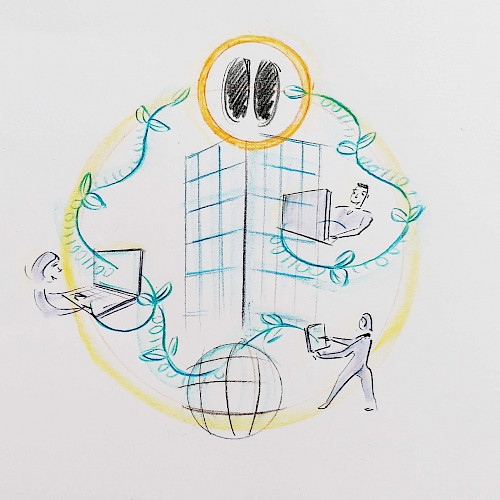 Working from your favorite spot
The last two years have shown: Great collaboration and top results are detached from the place of work. That's why we are adding new work models to our work portfolio and now offer for the future: X-Office & remote work!
But what does it mean? Our jambitees have the possibility to work hybrid with the x-office model. You can choose daily between working from home or from the office, completely flexible and individual depending on your personal situation. And we go one step further and enable our employees to work from anywhere. From the beach, their own favorite spot in the park, from home, or even from time to time from a vacation apartment on the North Sea or in Tuscany. Spending the winter on the Mediterranean and still not using up your annual vacation for it, but simply working from there. And after a few weeks, you simply com back to the office to your nice colleagues and your top-equipped workplace. This mobile office concept, as part of x-offices, is now possible without any problems at jambit.
And if you are drawn further away, you now have the opportunity to work fully remote. This is a valuable offer especially for our jambitees, who have changed their place of residence during the last two years or are planning a move in the future or are long-term homesick. In order to prevent the jambit homesickness in the first place, we of course also invite our remotees to events, trainings, kickoffs & workshops to the office.
To give all this flexibility and freedom a common framework, we have put together a few principles of collaboration for working from the individual x-offices of our jambitees.