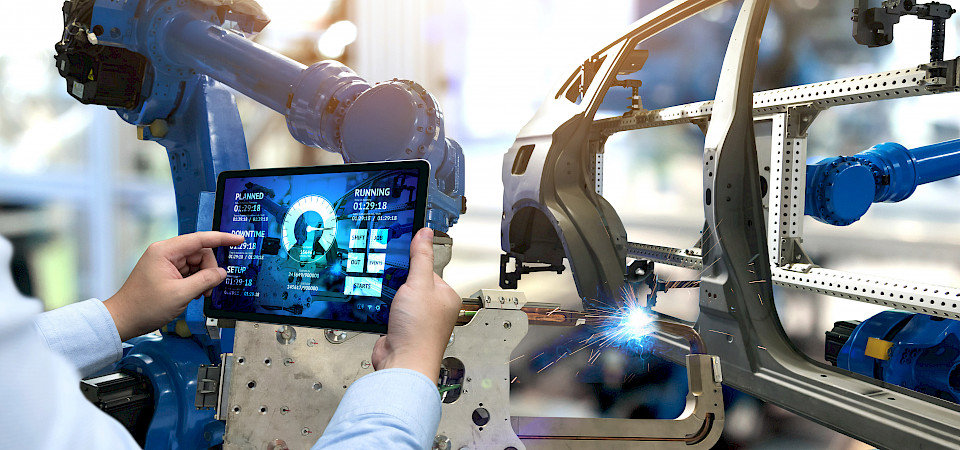 Tailor-made software solutions for the digital industry
In fields such as industry 4.0, IIoT, machine learning and AI
The digital transformation in Germany and the rest of the world is unstoppable. Many advantages are being named, but how do countless ideas and possibilities transform into concrete added value for a company? Can trend topics such as AI (artificial intelligence), ML (machine learning) or IoT (Internet of Things) help to master today's challenges? What influence do they have on the value chains of a company and what influence do they have on the activities of its employees?
Digital industry is when components communicate directly with the production line, report when they need maintenance and order the right parts for preventive replacement to keep downtime to a minimum. In addition, there is networking, not only of machines and components with each other, but also with people and processes.
Each of our customers follows their individual path to the digital factory. Our experience and prior knowledge from previous projects with often similar challenges in the Industry 4.0 and IIoT (Industrial IoT) environment help us to deliver a safe, innovative and sustainable result.
We help our customers to produce more flexibly, individually and efficiently. New production processes, digital business models or digital products themselves can be the driver. Tailor-made software makes it possible to adapt production processes and machines flexibly to the changing product mix to use capacities optimally. Additionally, analysis methods help to identify and minimize maintenance requirements and failure risks.
For more than 20 years now, we have been delivering tailor-made software solutions with the goal: 100% customer enthusiasm. On time, in budget, at highest quality – that is what we are measured.
With great expertise and outstanding commitment, jambit has been a reliable partner in developing innovative, intelligent automation solutions.
Our competences for innovative industry software
Long-term experience and know-how in topics such as analytics, maintenance and cloud migration
Especially in an innovative, dynamic sector such as industry, jambit is the right partner. From process optimization to the development of completely new business models – with entrepreneurial thinking and deep technological know-how, we support our customers in realizing their visions for the future. We rely on many years of experience in renowned research and development projects in the industry and in related sectors such as the automotive industry or ICT.
We are firmly convinced that we not only understand the problems and challenges described by the customer, but that we can also solve them entirely. The wishes and characteristics of the customer play a central role in this. Our cross-functional teams meet the highest standards in terms of their expertise, communication and teamwork skills. We are constantly expanding our portfolio through regular, high-quality further training.
Our main focuses:
Digital Factory with Industrial Internet of Things (IIoT) and Industry 4.0
Big Data in connection with the Internet of Things (IoT)
Artificial intelligence and machine learning
Migration and operation of cloud and cloud platforms
Augmented and virtual reality in an industrial environment
Mobile app development for iOS and Android
Future trends like block chain and quantum computing
In all our projects, we always focus on IT security.