Top of Mind
At jambit, we think that constant knowledge sharing is essential for both motivated jambitees and great project work. This is why jambit invests so much into knowledge – from knowledge building to sharing up to knowledge management.
Why do we believe this is worthwhile?
Today's knowledge about technologies, methods and tools will tomorrow be outdated.
Thanks to current knowledge, new trends are recognized and evaluted early.
The project business requires a high degree of adaptability and new solutions.
Not only expertise but also broad knowledge is promoted at jambit. Both bring us forward.
In case you need an important qualification or academic degree, we will happily encourage your further and advanced education. In particular roles, which we adapt to our needs, you will gain your individual personal profile.
State-of-the-art technologies in use and the opportunity to try new things.
Continuing Professional Development and Knowledge Management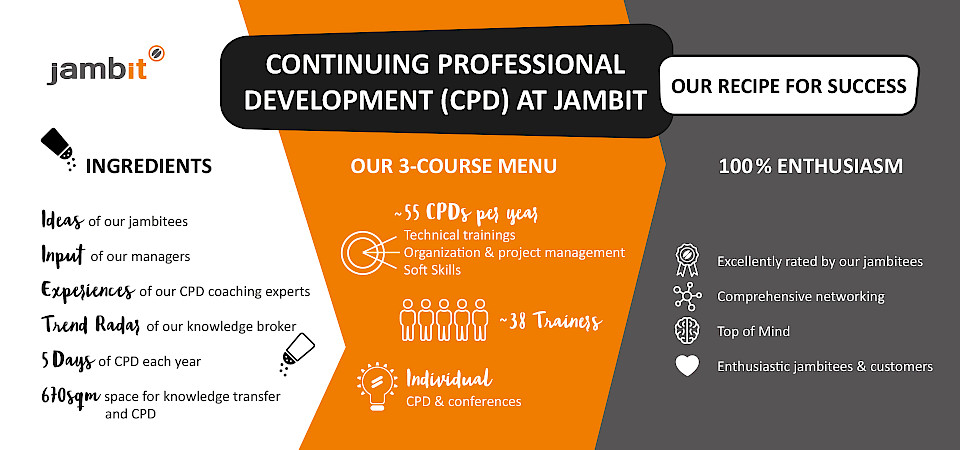 We want to fully utilize the potential of our employees and therefore offer various and individual opportunities for continuing professional development (CPD). We promote the personal and professional development of our employees through CPD courses, workshops and conferences on technological topics, but also on methodological competences in project management, communication and further soft skills. To encourage this, each employee has five days of CPD per year.
Because we believe that the network between colleagues is best cultivated through joint activities, we generally organize CPD courses in-house and offer a new, comprehensive portfolio with current topics each year. As part of their biannual meetings, supervisors and employees jointly develop an individual career strategy and choose the most appropriate CPD activities for achieving the set goals. Even visiting relevant conferences and fairs in Germany and abroad or participating in individual external CPD courses is a possibility. Individual contributions to conferences and other publications are encouraged.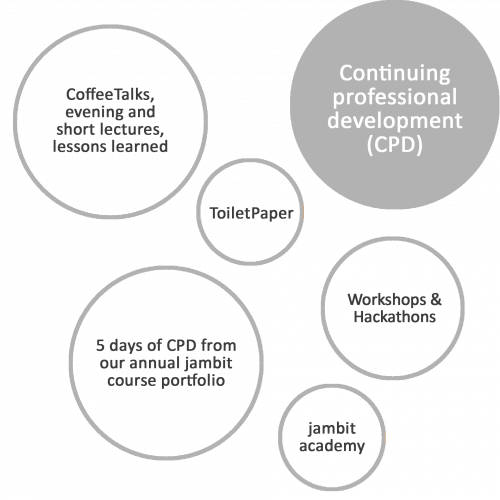 Learning new things, constant self-improvement, thinking outside the box – and at the same time gaining employability?
We see these things as key factors in employee satisfaction. This is why we deliberately invest in CPD of our jambitees and offer a broad course program. Our jambitees can participate in a course from our own broad portfolio or attend internal or external conferences, lectures, hackathons or workshops.
Of particular importance is knowledge sharing among each other – our jambitees are always happy to help each other. We encourage this exchange of knowledge, for example with CoffeeTalks and Toilet Papers. Our library ensures a sustainable database of knowledge, and all employees can order specialist books and magazines for it. Furthermore, our "Tech Scout" and our "Innovation Scout" filter the information jungle and gather important pieces of information and trends for the other jambitees in their blogs.
It has never happened to me that I found so many interesting training options in a company's course catalog and had such problems prioritizing.
Trust and self-responsibility
We are sure that our jambitees themselves know best which (new) technologies, tools or concepts it is worth it to engage with. Therefore and on the basis of mutual trust, we offer the opportunity to book a certain amount of study time on working hours.
Our jambitees can choose form and content independently, but the economic added value for jambit and our customer projects must be given.
Voluntary CPD in Meetups, Communities of Practice (CoP), webinars or at home is incentivized. As a result, relevant knowledge will be gained and extended.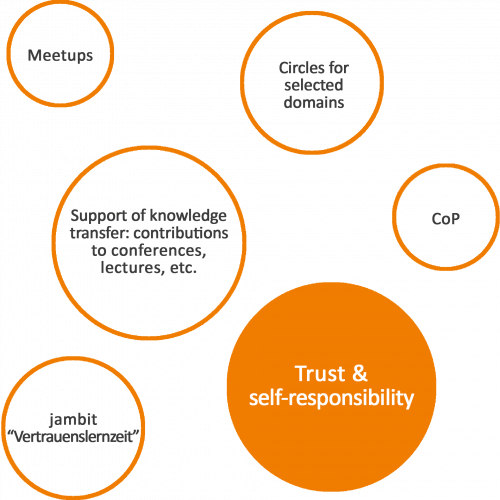 Employees can train/educate themselves further on their own initiative. This way, you achieve the best learning outcome.
Ecosystem of living knowledge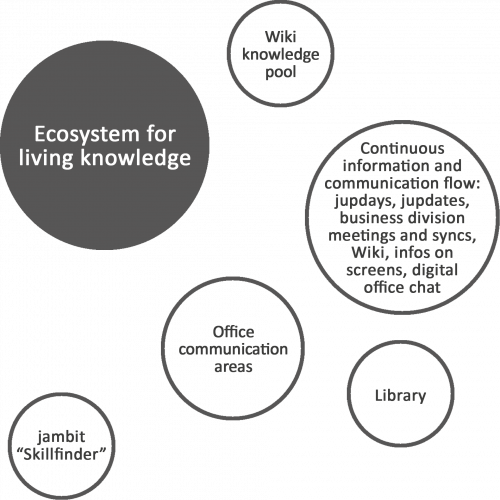 At jambit, our vibrant knowledge culture starts with constant and transparent corporate communication and continues in our Wiki where all jambitees share their knowledge and experience with each other.
There you will also come across our "Skillfinder", with which the next expert on a particular topic is just one click away.
Searching for "Hard Facts", our library invites you to browse. And who appreciates informal exchange finds a spot as well – and of course always a cup of delicious coffee!
The jambit skillfinder is stack overflow for real life - just collegial and better!
You might also be interested in: