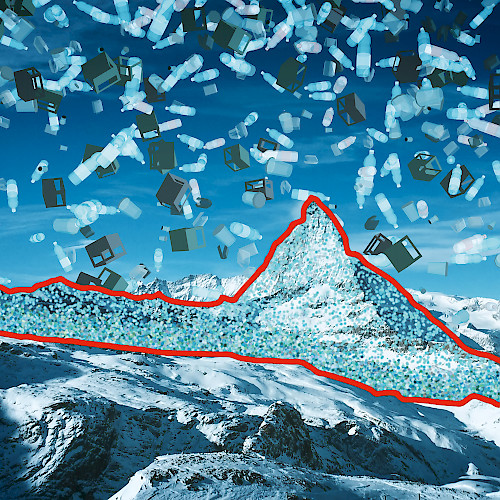 Augmented Reality Takes "Earth Plastic View" to the Next Level
"Earth Plastic View" – Visualization of Plastic Waste Worldwide
With his art project "Earth Plastic View" at the Matterhorn, Branko Šmon wants to make the unbelievable visible and cause a global rethinking in dealing with plastic.
Seven billion tons of plastic can be found currently worldwide in landscapes, oceans, landfills, and living creatures. On the basis of a resilient bulk density, this corresponds to a granulate volume of around 14 cubic kilometres. This unimaginably large quantity corresponds to the volume of the Matterhorn above an altitude of 2,600 metres in a radius of 3.78 kilometres.
Šmon uses the Matterhorn as an ambassador and installs four large "Earth Plastic View" frames around the Gornergrat. In addition, he places large plastic object cubes in Zermatt and at six vantage points along the Gornergrat railway line and on the Rothornseite.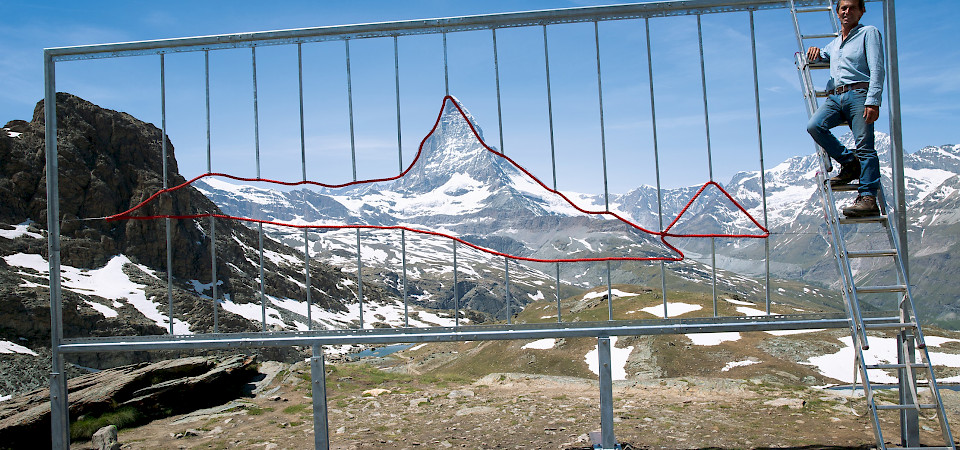 Art App – Merging of Reality and Digital Horizon in the Augmented Reality
Branko Šmon transcends the boundaries of traditional art and expands the real experience on the Matterhorn with a virtual level. In jambit's "Earth Plastic View" art app, reality and digital horizon merge. The expansion of the plastic volume on the Matterhorn is shown at several vantage points, and the unimaginable plastic volume within a real landscape is visualized through augmented reality. The integrated photo function and EPV-art-filter invite to spread Branko Šmon's art message globally. In addition, the app provides information about the art project and artists, as well as about the environmental plastic problems.
A small team from our jambit office in Stuttgart brought this multidimensional art experience to life. "At first, we weren't sure whether these many ideas of the artist could be implemented technically, also considering the available budget," tells Andreas Bernauer, Head of Subsidiary Stuttgart. "We finally made it with Unity's augmented reality."
While our jambitee Visnuharan Rajalingam implemented most of the Android app, Kevin Schaefer took care of the iOS release and designed the tutorial. Since the art opening on July 19, 2019, the art app has been available in the App Store and Google Play Store. With every purchase, 1 € is donated to innovative projects and sustainable solutions for plastics.
More about our jambit's services for virtual and augmented reality
For my "Earth Plastic View" Matterhorn Art project [...] jambit did a great job. I would like to thank all those involved in the app development for their positive commitment.