User-centered design for individual software solutions
Design, UI & UX by jambit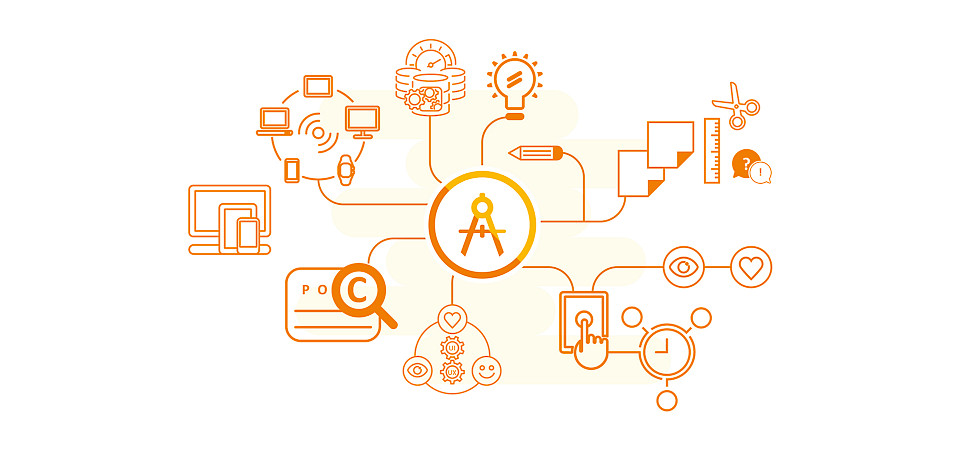 Focussing on the user: To be successful with a software solution today, it needs more than a functioning software from a technical point of view. If you want to effectively compete in the market, you have to convince the user with simple handling, clear design, and easy-to-understand user guidance. User-centered design focuses on the aspect of software UI, i.e. the graphical interface visible to the user must be designed and conceived according to the user's needs. However, many other aspects such as usability or performance have an impact on the user experience. The focus on an optimal UX is therefore essential for cutting-edge software solutions.
User-centered design tests concepts for usability and user acceptance right from the start and creates prototypes to test functionalities in advance without development effort. In this way, features can be constantly tested and the product can be optimally adapted to the user's needs. This promises higher chances of success with regard to acceptance by the end user. Design systems nowadays serve as a toolbox for growing product GUIs to quickly and easily implement appealing solutions.
Our services in user-centered design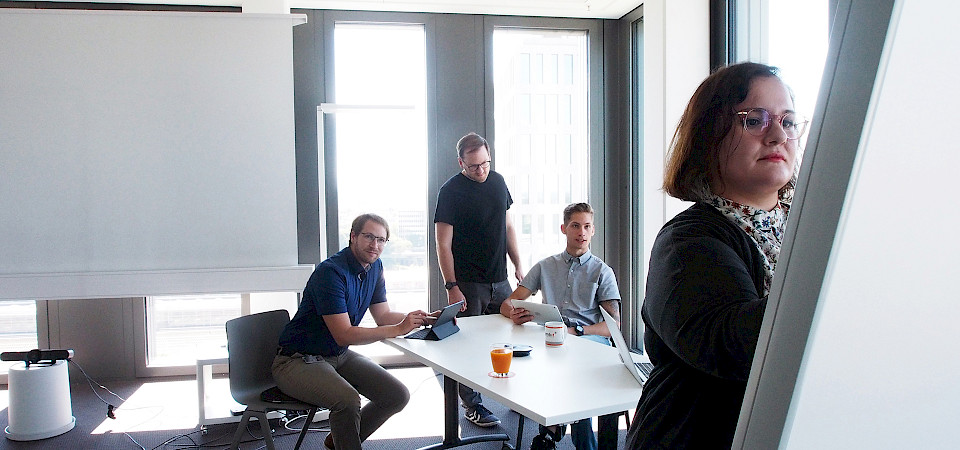 As a software service provider for tailor-made individual software, we deliver complete packages to our customers: development and design – all from a single source. By close interlinking of both fields from the very beginning of the project, we ensure that our software solutions meet the very highest standards in terms of functionality and code quality as well as user experience, ensuring 100% enthusiasm.
Our jambit design division delivers UI and interactive designs for portals, head units, and apps triggering the "wow effect" in customers. Thanks to our many years of experience in the field of user interfaces, we can also make a significant contribution to the subsequent success of the overall implementation as early as the conception stage of the solution. From user analysis, wireframing, and usability tests to the perfectly optimized GUI: Our interdisciplinary team supports all project phases with valuable know-how on all UI and UX issues. The design and development of wireframes such as click dummies and mockups also allows us to optimize the user experience well before the actual implementation. The latest graphic and interactive technologies guarantee highly dynamic, innovative applications that sustainably inspire our customers.
Our expertise:
Design thinking
Concept ideation
Rapid prototyping
Usability engineering
UX design
Communication design
Corporate design
Software ergonomics
User experience (UX)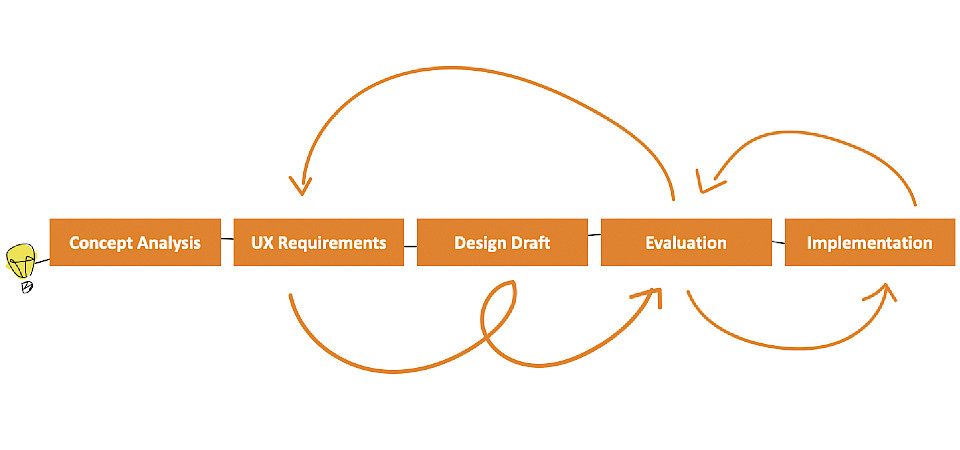 User experience refers to the entire experience that a customer or user has with a product. Influencing factors are not only usability and aesthetics of the interface, but also thoughts and emotions, expectations and needs of the user as well as the functionality and performance of the system. Our jambit design team considers all these aspects when developing our tailor-made software solutions. And one particular question is always in focus: How can the user achieve their goals while having the most positive experience possible?
Our services:
Optimization of usability (usability engineering)
Optimization of aesthetics (user interface design)
Advising the product owner on all UX topics
Deriving user needs from interviews and surveys (user research)
In this jambit Coffee Talk, Robert Kowalski, Head of Automotive Baden-Württemberg at jambit, explains how quantified UX can be used to specifically and iteratively improve the user experience of digital products (only available in German):
User research
A user analysis is useful to gain a better understanding of the user. The results help to better adapt the software to the user's needs. Relevant information about the user is generated by means of interviews, contextual inquiries and user surveys. This information is then documented in personas and empathy maps and presented in a comprehensible way. They form the perfect basis for deriving clear requirements for the software and prioritizing them.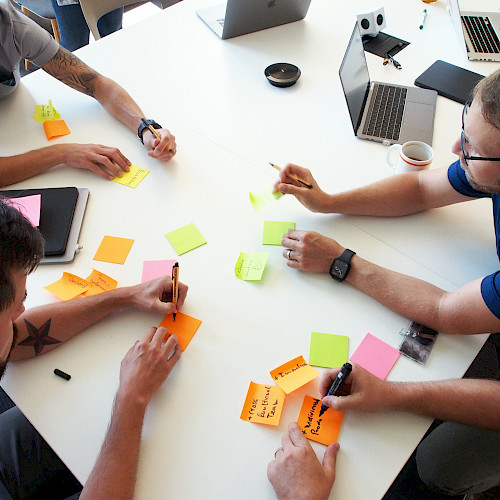 At jambit we rely on an interdisciplinary team of designers, psychologists, developers and requirements engineers. All of them have cross-industry experience in product development. When conducting our user surveys, we accompany our customers from A to Z: from conception to implementation to evaluation – at jambit you get everything from one single source. In workshops, we present the results to the team and reach all stakeholders and team members who can work on the result with the same understanding.
Wireframing / prototyping
At jambit, we start each of our design projects by creating wireframes to be able to visualize basic elements of a software even before development and make functionalities tangible. The focus is not on the UI design, but on aspects such as layout, usability, and distribution of product features. Wireframes serve as a basis for discussion among the team and stakeholders for specification of features. This avoids misunderstandings right from the start and creates a common understanding among all project participants.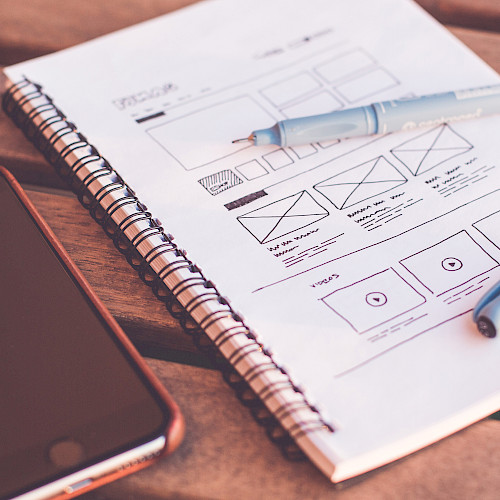 Through many years of experience from numerous projects, our jambit design team knows exactly how to present wireframes in a visually appealing and meaningful way. We also work with popular tools for creating clickdummies, such as Sketch, Figma, Adobe Xd, or Invision. These interactive clickdummies give our customers a better experience and idea of the software without generating additional development effort.
Usability engineering & usability tests
Usability engineering is the process of ensuring the usability of software. This includes standards and guidelines, methods of analysis and evaluation as well as an iterative optimization of usability. With the help of user tests, expert reviews, and standards such as DIN ISO 9241, we evaluate whether the usability of the user interface meets user expectations. With usability tests, problems in the user experience can be uncovered and potentials for improvement of the interface or functionality can be identified.
This is how a usability test with jambit works:
Preparing questionnaires and interview guidelines with test use cases
Conducting and moderation of user tests (remote or in the usability lab)
Documentation of test sessions (video/audio recording, protocols)
Evaluation of the results
Derivation of recommendations for action
Conducting workshops on the results
Learn more about methods and examples for user feedback in the development process in this talk by David Schopf, UX Specialist at jambit (only available in German):
User interface design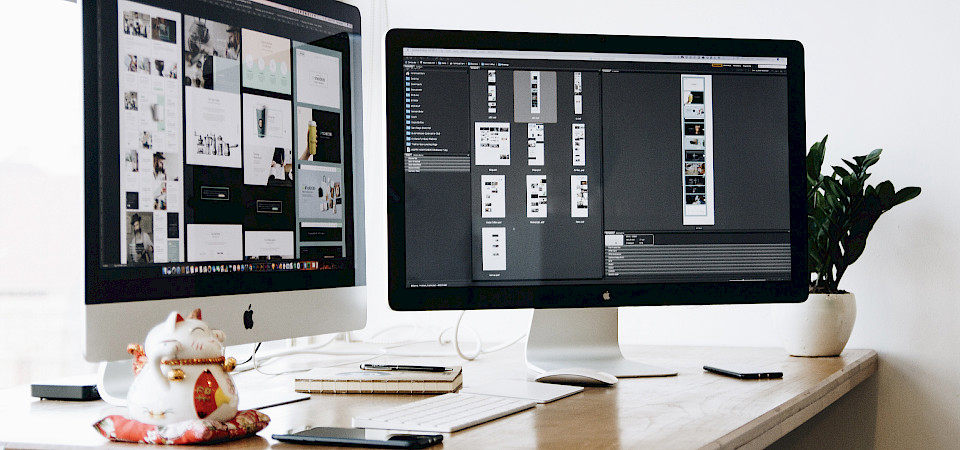 UI design forms the interface between user and software. The focus is on optimizing the user interface for the user. Our UI designers use the results of the above mentioned methods and develop a suitable GUI. Ideally, UI designer also have a technical background, so that the elements can be implemented smoothly and the coordination between design and development works without any problems. In addition, branding aspects of the respective brand must of course be considered as well when developing the user interface designs.
In this context, jambit's projects particularly benefit from our interdisciplinary team, which complements each other perfectly: In addition to the experience in the various design disciplines, this team also has the technical know-how to avoid friction between front-end and UI design right from the start. Furthermore, we increasingly work with design systems whose UI elements can be easily used for future features. In the end, we deliver our customers a design toolbox with all necessary rules and components for smooth further development.